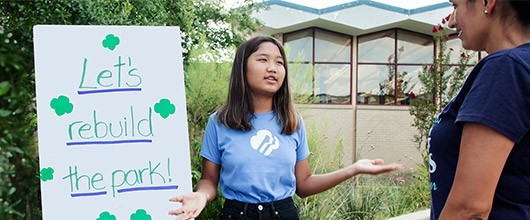 Silver Award Girl Scouts
Have you ever looked around your neighborhood or school and wondered how you could make a change for the better? Going for the Girl Scout Silver Award—the highest award a Girl Scout Cadette can earn—gives you the chance to do big things and make your community better in the process.
Recognizing the impact of COVID-19, our Awards team is here to support you. If you need to discuss changes to project plans or require additional time to complete the project, contact awards@gshnj.org to discuss next steps.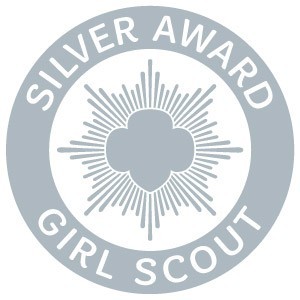 You can pursue your Girl Scout Silver Award if: 

You're in sixth, seventh, or eighth grade (or equivalent)



You're a registered Girl Scout Cadette 
 

Girl Scout Silver Award Steps
 

Identify an issue you care about
 

Build your Girl Scout Silver Award team or decide to go solo
 


Pick your Silver Award project
 


Make a plan and put it into motion
 

Reflect, share your story, and celebrate

Leaders are required to view our Silver Award Training (available on gsLearn) before the girls begin their projects. Leaders should also review the Silver Award Money Earning Policies for guidance on how projects can be funded.

While formal pre-approval of project ideas is not required, Girl Scouts are welcome to reach out with their ideas to awards@gshnj.org. We're happy to provide feedback and guidance.
Submission of Silver Award Projects

The deadline for Silver Award submissions is September 30th of your 8th grade graduation year. If you're completing 8th grade in June 2021, your final report is due on September 30, 2021.