GSHNJ is excited to host this delicious fundraiser for the second year in a row! Enjoy the culinary creativity of our generous chefs as they transform well-loved Girl Scout cookies into amazing appetizers and desserts.
Thursday, March 14, 2019 | 6:00 p.m. — 8:00 p.m.
Shackamaxon Country Club
Join us for passed hors d'oeuvres, gourmet food stations, a cash bar, a wine pull, and the chefs' masterpieces.
Continue >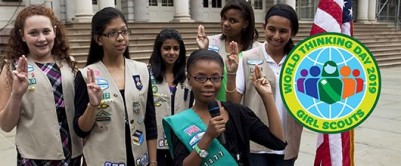 World Thinking Day is your opportunity to explore Girl Scouting across the globe! You will "travel" to different countries, sample foods, view displays, and do hands-on activities created by your sister Girl Scouts.
A "passport" and fun patch are included.
Continue >


SOCIAL MEDIA FEED