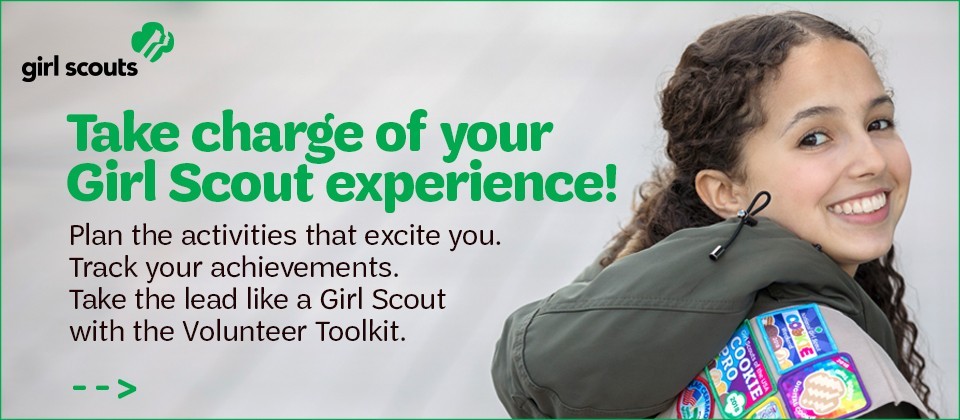 VTK
The Volunteer Toolkit is a robust digital planning tool that gives volunteers resources and program content to get the year started—and keep it going smoothly! Fully customizable, the toolkit is digitally responsive so volunteers can plan and prepare practically anywhere.
Girls have more fun when they can shape their own experience, do hands-on activities, and work together as teams. With the Volunteer Toolkit, girls and leaders can explore meeting topics and program activities together and follow the fun as they plan their Girl Scout year.
Troop leaders with active Girl Scout troops have access to manage their troop and year plan in the Volunteer Toolkit. Troop parents, caregivers, and other troop volunteers have read-only access, allowing them to see all the awesome things your troop is up to!
Through the VTK, troop leaders can:
Plan the troop's calendar year.
Email parents/caregivers with one click.
View the troop roster, renew girls' membership, and update their contact information.
Customize meetings by troop year with other badge and Journey options.
Access the VTK as a multilevel troop.
Explore individual meeting plans that show a breakdown of every meeting, including a list of the materials needed, and editable time allotments for each activity within a meeting.
Record girls' attendance at meetings and their badge and Journey achievements.
Add council or custom troop events to the troop's calendar.
Enter the troop's finances by using the Finance tab; for assistance, view our Finance Tab tutorial and use our resource guide, Managing Your Troop Account.
Easily locate resources, such as Safety Activity Checkpoints.
Access activities that include a "Get Outside" option, which provides alternative outdoor options.
What About Parents?
Parents can now access the Volunteer Toolkit to see what their girl's troop or group is doing (e.g, meeting information and which badges and Journeys she is working on).
Parents can also view the troop's finances (depending on the council's process).
Log in today! Click on My GS in the upper right-hand corner to get started.
Learn more about the Volunteer Toolkit with these helpful resources: